Chantry Fine Art Collection
Subject: Portrait of the Elphinstone Children [Watercolour]
Artist: Miss Emily Scott [Mrs Seymour] [Exhb 1836-1855]
Provenance: Signed and Dated 1841 at bottom right
Date: 1841
Size: Painting 9" x 7.5" frame 17" x 16"
Condition: Very Fine
Frame: Original
Miss Emily Scott was a miniature painter who lived at Park Village West, London and later at 14 Maddox Street, just off Regent Street.
She exhibited her works at the Royal Academy and Suffolk Street between 1836 and 1855 when she moved to Manchester.
This beautiful watercolour portrait of the four Elphinstone children, John, Maria, Althea and Alexa is signed and dated 1841 at bottom right.
It is in excellent condition and is in its original frame.
A noble Scottish family with several Earldom's in their lineage including those of Mar and Kinnoull, the Elphinstones are closely related to royalty on the late Queen Mother's side by the marriage of Lady Mary Bowes-Lyon to the 16th Lord Elphinstone.
However, the family has many lines and we have been unable to identify to which particular branch these children belong.
Many family portraits were dispersed as part of the Elphinstone Trust sales a few years ago.
There is a note on the reverse which states that at one time it was part of the estate of Mrs Marjorie Leather who was their great niece and possibly painted for her.
The frame is the original.
It is dated and signed in full at bottom right.
Price: £650
Please note the following: Chantry Fine Art are happy to supply buyers with a photographic image of this item and believe that all of the details given are correct to the best of their knowledge. Buyers may wish to carry out their own research and again, Chantry Fine Art are more than happy to supply any information that might assist - you can contact Chantry Fine Art either by telephone or email.
Digital reproduction through cameras and monitor screens may not render the true colours of the portraits.
Prospective buyers may also arrange, by appointment, to view individual items.
Contact details can be found using the 'contact' link in the navigation bar at the top and bottom of each page.
We look forward to hearing from you and thank you for your interest in Chantry Fine Art.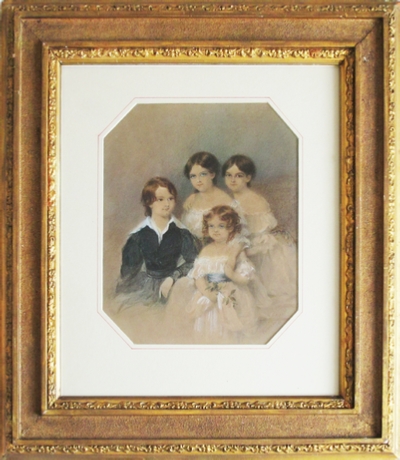 home | about | art collection | links | contact
webmaster jd@pppbm.net website & contents* ©chantryfinearts 2011 terms | privacy policy
*Some content has been obtained from the WorldWideWeb and is all believed to be in the Public Domain and copyright free
if this is not the case please notify the webmaster and the material will be checked and removed if appropriate