Chantry Fine Art Collection
Subject: Portrait of Joyce Mary Jacobsen
Artist: Mrs Maude Hall Neale SWA [Exhb 1888-1940]
Provenance: see below
Date: 1925
Size: Painting 36" x 28" frame 41" x 33" *
Condition: Very Fine
Frame: Original
Becoming recognised as one of the very finest women portraitists of the early 20th century, Mrs Hall (nee Rutherford) studied in Liverpool and subsequently in Paris under the noted French artist Delecluse.
She married George Hall Neale, who was himself a fine artist and President of the Society of Liverpool Artists.
Together the formed a formidable team, with him tending to portray men and she women sitters, often husband and wife.
She was extremely well known and regarded in women's artistic circles, exhibiting 89 works at the Society of Women Artists, also some 100 paintings at the Walker Art Gallery Liverpool and 42 at the Royal Academy.
She was elected SWA in 1911.
This very lovely portrait is of a beautiful young lady, Joyce Mary Jacobsen.
It epitomises the simple elegence of the 1920s and is in particularly fine condition, possibly because, unusually for an oil, it has been glazed since it was painted. The frame is the original.
It is signed in full at bottom left.
[We sold another of her portraits some 9 months ago]
* Due to the size of this frame there is a slight distortion showing in the sides of the frame in the photograph - the frame is 900 true.
Price: £2,250
Please note the following: Chantry Fine Art are happy to supply buyers with a photographic image of this item and believe that all of the details given are correct to the best of their knowledge. Buyers may wish to carry out their own research and again, Chantry Fine Art are more than happy to supply any information that might assist - you can contact Chantry Fine Art either by telephone or email.
Digital reproduction through cameras and monitor screens may not render the true colours of the portraits.
Prospective buyers may also arrange, by appointment, to view individual items.
Contact details can be found using the 'contact' link in the navigation bar at the top and bottom of each page.
We look forward to hearing from you and thank you for your interest in Chantry Fine Art.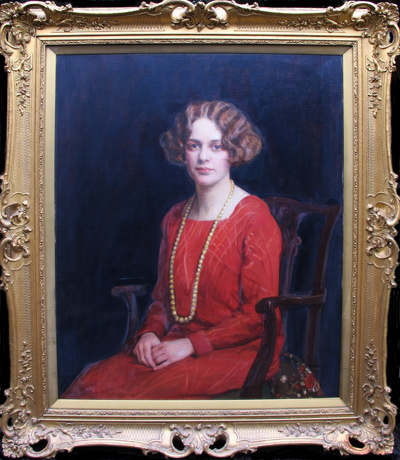 home | about | art collection | links | contact
webmaster jd@pppbm.net website & contents* ©chantryfinearts 2011 terms | privacy policy
*Some content has been obtained from the WorldWideWeb and is all believed to be in the Public Domain and copyright free
if this is not the case please notify the webmaster and the material will be checked and removed if appropriate