Chantry Fine Art Collection
Subject: Portrait of Lt Gen Archibald Dyce
Artist: English School
Provenance:
Date: c1840 Size: 36"x 27" Condition: Excellent Frame: Reflecting the Period
Details: An imposing portrait of a distinguished East India Company Senior Officer before the Indian Mutiny.
An imposing portrait of Lt Gen Archibald Brown Dyce in the uniform of the Madras Light Cavalry one of the pillars of the Indian Empire prior to the Indian Mutiny.
Lt Gen Archibald Dyce (c1800-c1870) was the younger son of another senior officer in the East Indian Company's army in India, Lt Gen Alexander Dyce (c1770-c1840).
General Dyce is in the full dress uniform of the Madras Light Cavalry.
In his later years he became Colonel of the 105th Regiment Madras Light Infantry.
He served throughout his career in India and his principal contribution to Indian history was, as a Colonel, commanding a force of the 34th Madras Light Infantry and the 13th Light Dragoons with associated other arms which in 1839 put down a rebellion by the Nawab of Kurnool.
The artist is not known, but was probably one of the many English artists who travelled out to India to make their fortunes painting the great and good of the Anglo Indian establishment.
Amongst these were George Chinnery and the Daniel brothers.
Whoever it was he was certainly in the top flight.
The portrait is in oil on panel and is in wonderful condition.
Price: £3,250
Please note the following: Chantry Fine Art are happy to supply buyers with a photographic image of this item and believe that all of the details given are correct to the best of their knowledge. Buyers may wish to carry out their own research and again, Chantry Fine Art are more than happy to supply any information that might assist - you can contact Chantry Fine Art either by telephone or email.
Digital reproduction through cameras and monitor screens may not render the true colours of the portraits.
Prospective buyers may also arrange, by appointment, to view individual items.
Contact details can be found using the 'contact' link in the navigation bar at the top and bottom of each page.
We look forward to hearing from you and thank you for your interest in Chantry Fine Art.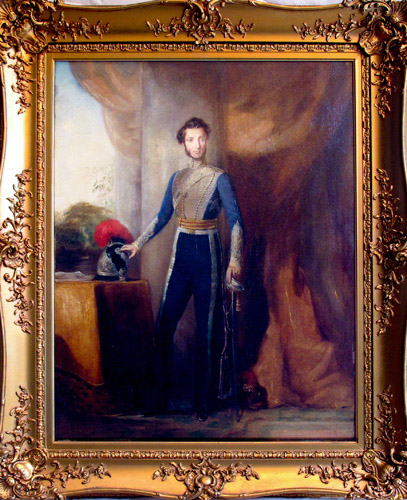 home | about | art collection | links | contact
webmaster jd@pppbm.net website & contents* ©chantryfinearts 2011 terms | privacy policy
*Some content has been obtained from the WorldWideWeb and is all believed to be in the Public Domain and copyright free
if this is not the case please notify the webmaster and the material will be checked and removed if appropriate