 Chantry Fine Art Collection
Subject: Portrait of Lt Gen George Sandys - Indian Army - [Pastel]
Artist: J W Sperling
Provenance: See below
Date: 1854 or 1859*
Size: Picture 13.5" x 9.5"
Condition: Very Fine
Frame: Original
John Sperling was originally a London portrait painter who exhibited 3 portraits at the Royal Academy between 1845/48, but moved to Madras to make his fortune and indeed was very successful
This fine pastel portrait is of Lieutenant General George Sandys, the Commander in Chief, Madras. He was also Colonel of the 6th Madras Light Cavalry.
It is signed in full but the date in not fully distinguishable, being either 1854 or 1859.
The Sandys family is very distinguished, including Duncan Sandys, later Lord Sandys, a close associate and son-in-law of Sir Winston Churchill.
They were originally a Cumbrian family, a Myles Sandys (1761-1839) of Graythwaite and Esthwaite marrying Elizabeth Dalrymple, sister of the 8th Earl of Stair. The fourth son, George, (1796-1864), the portrait subject, eventually inheriting the family seat Graythwaite Hall, Ulverston, Cumbria. The family still retain the seat; the present owner, Myles Sandys', is the great great grandson of the General. He kindly certified the authenticity of the portrait by comparing it with three other portraits of the general at Graythwaite Hall.
A fine portrait of a distinguished soldier from a famous family, with impeccable provenance.
The frame is original. The portrait measures 13 1/2" x 9 1/2".
Condition is very fine.
The picture is glazed.
Price: £295
Please note the following: Chantry Fine Art are happy to supply buyers with a photographic image of this item and believe that all of the details given are correct to the best of their knowledge. Buyers may wish to carry out their own research and again, Chantry Fine Art are more than happy to supply any information that might assist - you can contact Chantry Fine Art either by telephone or email.
Digital reproduction through cameras and monitor screens may not render the true colours of the portraits.
Prospective buyers may also arrange, by appointment, to view individual items.
Contact details can be found using the 'contact' link in the navigation bar at the top and bottom of each page.
We look forward to hearing from you and thank you for your interest in Chantry Fine Art.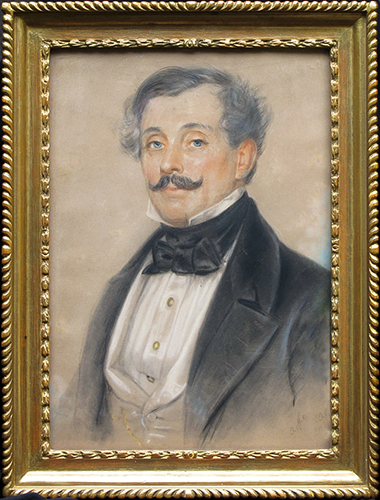 home | about | art collection | links | contact
webmaster jd@pppbm.net website & contents* ©chantryfinearts 2011 terms | privacy policy
*Some content has been obtained from the WorldWideWeb and is all believed to be in the Public Domain and copyright free
if this is not the case please notify the webmaster and the material will be checked and removed if appropriate