 Chantry Fine Art Collection
Subject: Portrait of Mary Gibbons (nee Moseley)
Artist: Tilly Kettle (1734-1786)
Provenance: Fully attributed by Messrs Christies
Date: c1769 Size: 30"x 25" Condition: Fine
Frame: Sympathetic to the period but not necessarily the original
Details: Born in London, the son of a house painter, he studied at Shipley's, St.Martin's Lane and the 3rd Duke of Richmond Academies.
He was working professionally by 1760 and was much influenced by Reynolds.
He exhibited 28 works at the Society of Artists and 11 at the Royal Academy. Kettle was greatly encouraged by his patron Sir Richard Kaye, who introduced him to clients in the midlands, though he kept a studio in London from 1764-9.
Subsequently he decided to seek his fortune in India where he stayed from 1769-76 painting nabobs including Warren Hastings and native princes and amassed a substantial fortune.
Returning to England he married the youngest daughter of James Paine Senior, the architect. Unfortunately, his practice declined and he became bankrupt. He was on his way back to India in 1786 to recoup his fortune when he fell ill and died at Aleppo.
He was considered to be a remarkably competent and sympathetic painter and his works often have a delightful naive charm. He was fond of placing his sitters with the light at the level of the face.
This charming and serene portrait is stated to be of Mary Moseley of Leeton Hall, near Shrewsbury, who married Thomas Gibbons in 1775.
From the style of dress and coiffure it was painted c1769, just before Kettle went to India. The original attribution to Kettle was by Christies'. Further research at the Witt library more than confirms this. Kettle's treatment of Mrs.Barry's dress in box 1319 and of Mrs Drewry Ottley's in box 1320 is very similar to Mrs Gibbon's.
The most remarkable resemblance is in the portrait of the unidentified lady in box 1320A. Although this lady is looking at the artist the pose is identical, with the hand resting lightly on the left cheek. The dress is very similar, especially the left sleeve which could have come from the same portrait. The arm rests on the same plinth. A similar string of pearls is in the hair, perhaps a studio prop. A combination of so many factors removes any doubt that this is a Kettle portrait.
Fully attributed by Messrs Christies.
Please note: The portrait was cleaned, relined for the first time and placed in a new stretcher in June 2001.
Price: £6,500
Please note the following: Chantry Fine Art are happy to supply buyers with a photographic image of this item and believe that all of the details given are correct to the best of their knowledge. Buyers may wish to carry out their own research and again, Chantry Fine Art are more than happy to supply any information that might assist - you can contact Chantry Fine Art either by telephone or email.
Digital reproduction through cameras and monitor screens may not render the true colours of the portraits.
Prospective buyers may also arrange, by appointment, to view individual items.
Contact details can be found using the 'contact' link in the navigation bar at the top and bottom of each page.
We look forward to hearing from you and thank you for your interest in Chantry Fine Art.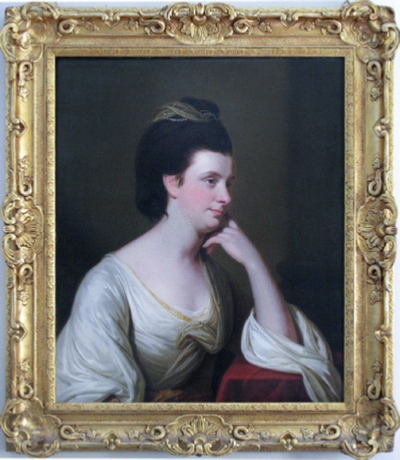 home | about | art collection | links | contact
webmaster jd@pppbm.net website & contents* ©chantryfinearts 2011 terms | privacy policy
*Some content has been obtained from the WorldWideWeb and is all believed to be in the Public Domain and copyright free
if this is not the case please notify the webmaster and the material will be checked and removed if appropriate