Chantry Fine Art Collection
Subject: Portrait of Princess Alexandra
Artist: Henry Campotosto
Provenance: Not known but dated and signed in full
Date: c1885 Size: 37"x 29" Condition: Excellent Frame: Sympathetic to the period not necessarily the original
Details: This lovely portrait of Princess Alexandra when Princess of Wales is surrounded with roses to reflect her love for this flower - subsequently, she founded Alexander Rose Day in 1912.
Daughter of King Christian IX of Denmark, Princess Alexandra married the then Prince of Wales, Edward, in 1863, becoming Queen from 1901 to 1910.
She was renowned for her gentle nature and good works, especially in hospitals, and also for her love of roses. She was hugely popular with the public, all the more so as she bore with great dignity the infidelities of her husband.
In 1902, she founded the Queen Alexandra's Royal Army Nursing Corps, and in 1912 inaugurated Alexandra Rose Day in aid of hospitals.
She died widely loved and respected in 1925.
The portrait is signed and dated 1885.
The artist Henry Campo-Tosto (anglicised to Campotosto) was born c1850 in Brussels, where he studied.
He moved to London in c1875, and lived with his sister Octavia, a fellow artist, at 7, Kensington Gardens Square until 1893 when he moved to Bletchingly.
He exhibited at the Royal Academy, at Suffolk Street and also in Paris.
The provenance of this lovely portrait, executed in 1885, is not known.
Clearly it reflects her love of roses, and it seems possible that it was painted for one of the hospitals or nursing charities with which she was associated. It is signed and dated in full.
Price: £2,500
Please note the following: Chantry Fine Art are happy to supply buyers with a photographic image of this item and believe that all of the details given are correct to the best of their knowledge. Buyers may wish to carry out their own research and again, Chantry Fine Art are more than happy to supply any information that might assist - you can contact Chantry Fine Art either by telephone or email.
Digital reproduction through cameras and monitor screens may not render the true colours of the portraits.
Prospective buyers may also arrange, by appointment, to view individual items.
Contact details can be found using the 'contact' link in the navigation bar at the top and bottom of each page.
We look forward to hearing from you and thank you for your interest in Chantry Fine Art.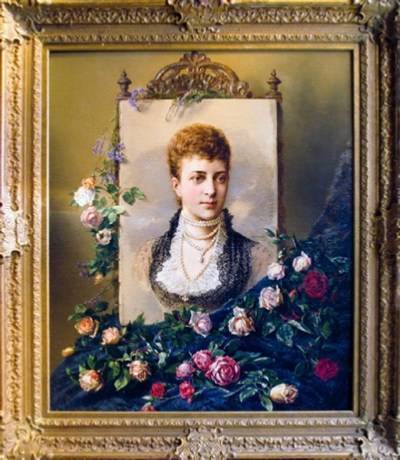 home | about | art collection | links | contact
webmaster jd@pppbm.net website & contents* ©chantryfinearts 2011 terms | privacy policy
*Some content has been obtained from the WorldWideWeb and is all believed to be in the Public Domain and copyright free
if this is not the case please notify the webmaster and the material will be checked and removed if appropriate